Products Launch
---
Products Launch
Yottled is proud to announce the ability to list digital content on your Yottled website. Today, Yottled customers can sell any digital asset directly from their site. Videos, books, and more. Further, Yottled customers are able to list content under memberships for recurring revenue. Last, you can upload content directly to Yottled or use external links.
Check out this short video to see a demo!
Products
It's hard to sell digital products online. There is a lot to think about. How do you provide access to content? How do ask for information? How do you charge? Where do you store your content?
Yottled has you covered with everything – simply and easily. We've automated the entire process. You can upload content directly to us, charge for your content, and anyone that accesses your content is put into your Yottled CRM. Everything is simple and easy for you and your client.
Creating a product
Products are digital assets such as videos, images, documents, and more hosted anywhere, including Yottled. To create a product, click Offerings and then Products. From there, click Create a product
You're able to list as many assets as you want under one Product. In addition, you can add titles and descriptions of the content to provide clarity and context for your users. Give the product a price, description, and image(s) to show off on your site. Finally, decide if it should be part of a membership and a collection. Click "create" and you're done!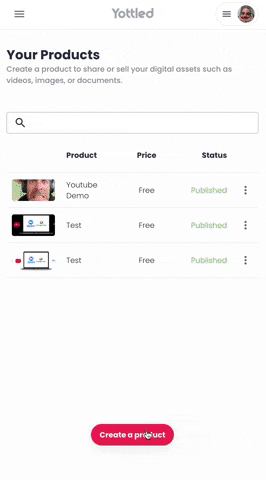 Yottled takes care of everything from here. Clients that purchase your content will receive immediate access to their purchase and an email with a link to their purchase.
What the client sees
Yottled provides a simple, elegant checkout experience for your client on every type of device. We always require an email and if you're charging for your products, we automatically insert a credit card form on your behalf so you can quickly and easily get paid. We also insert a custom intake form so you can ask additional necessary information.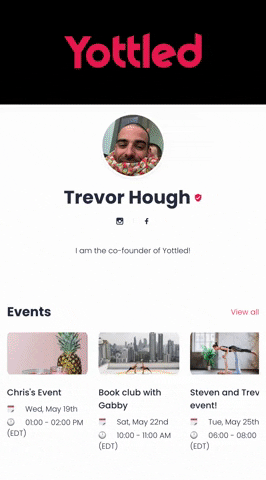 When your client purchases content, they receive immediate access and a follow up email with a link to access the purchase. If the content is included in a membership program, they will be able to access the content as part of their membership portal.
Ready to give it a try?
Products is now available! You can sign up below and if you have any questions, we're here to help. Let us know if we can be of any help and thank you to all of our early access customers for the feedback and support in testing!